Don't Make This Apartment Leasing & Marketing Mistake 2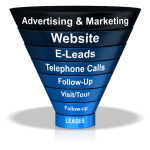 Leasing & Marketing Mistake 2: Not having a way for the prospect to contact the apartment community that doesn't require any other information than an email address.
Long forms such as guest cards do not produce nearly the same number of leads. In fact, I have found through hundreds of websites that making other fields required prompts the prospect to provide false information. How many times have you wanted information and gave a fake number because you only wanted it by email?
In the apartment industry, email leads get ten times higher conversions than social media campaigns. How do I know that email marketing makes sense? I have been using email marketing to generate and re-market to prospects, brokers, locators and residents weekly for well over 5 years with great success. In fact when I hit the send button in constant contact my leasing mangers start receiving responses and telephone calls and this shows up in our daily, weekly and monthly traffic reports.
 The Advantages of Email as a Communication and Re-Marketing Channel:
Email is Personal – Email allows you to land in a user's inbox. There is no ranking system limiting your reach. It is straightforward, personal and casual.
Email is Purposeful – To get your email, a user needs to signup for your email list and then confirm their email address. Someone doing this much work is interested in hearing from you, and he or she is much more receptive to your message.
Email is Targeted – The prospect has already shown interest in your apartment community. You already know for example: that the prospect wants a one bedroom apartment, has a pet, needs to move in two months and so on. You can deliver the information at the time they desire and offers to get better results.
You Own Your Email Leads List – You do not own Facebook, Twitter or Google. Your social media campaigns and SEO efforts can go to waste when these platforms change their policies. On the other hand, you own your email leads list, and the decisions of other businesses do not influence it.
Email is One-on-One – People read email in the privacy of their inbox. The message is not on a public timeline. They can ask you questions directly, in private and with confidence.
Every bright apartment marketer understands the value that an email list holds. They understand that email marketing is the best long-term marketing investment with a much higher return. People will continue to get a message at little cost for a more extended period of time.
Studies show that at least 91% of consumers check their email on a daily basis.
You should spend more time and put more effort into something that guarantees much higher results.
What Do You need to Start Building an Email List?
You should know why building several email lists is so important and why ignoring it would be a HUGE mistake.
So let's take a look at what you need to start building your email list.
Things You Need to Build an Email List:
1) A website.
2) An email marketing service like  mail chimp or Constant Contact. I use Constant Contact.
3) High-converting opt-in forms. What is an opt-in form? An opt-in form is a form of consent given by prospects, acknowledging interest in your apartments and authorizing you to contact them with further information. "Opting-in" generally refers to email communication and is used for permission to send newsletters, apartment information and other marketing material to residents, locators, brokers and prospects.
4) A lead management system (like Lead2Lease) which allows you to export contacts weekly.
If you work with brokers and apartment locators build an email list to keep these professionals informed at least twice a month.
Be sure to also keep a Residents email list so that you can send them community updates and promote your resident referral program monthly.